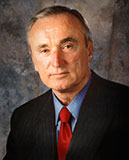 William J. Bratton has been appointed the 42nd police commissioner of the City of New York by Mayor Bill de Blasio, the second time he has held the post.
Commissioner Bratton established an international reputation for re-engineering police departments and fighting crime in the 1990s. As Chief of the New York City Transit Police, Boston Police Commissioner, and in his first term as New York City Police Commissioner, he revitalized morale and cut crime in all three posts, achieving the largest crime declines in New York City's history. At the NYPD in 1994 and 1995, he led the development of Compstat, the internationally acclaimed command accountability system now in use by police departments nationwide. As Los Angeles Police Chief from 2002 to 2009 and in a city known for its entrenched gang culture and youth violence, he brought crime to historically low levels, greatly improved race relations, and reached out to young people with a range of innovative police programs. He is the only person ever to lead the police agencies of the nation's two largest cities.
A U.S. Army veteran of the Vietnam War, Commissioner Bratton began his career in 1970 as a beat cop in the Boston Police Department (BPD), where he was cited with the department's top award for valor in 1976 for facing down a bank robber and rescuing a hostage. By 1980 he had risen to Superintendent of Police, the BPD's highest sworn position. He went on to lead progressive change as chief or commissioner of five other police departments.
A noted author, commentator, and consultant, Commissioner Bratton holds a Bachelor's degree from Boston State College and is a graduate of the FBI National Executive Institute. At Harvard University's Kennedy School of Government, he was a Senior Executive Fellow in Criminal Justice and a member of the school's National Executive Session on Policing. For his collaborative efforts in working with U.S. and British police forces, he was recognized by Her Majesty Queen Elizabeth II with the honorary title Commander of the Most Excellent Order of the British Empire (CBE).
Religious Leaders meet in Atlanta GA
Mohsin invited Janab Yusuf Zainuddin, President,Dawodi Bohra Islamic Community of Metro Atlanta, who thanked the Mayor and assured her of Dawoodi Bohra Islamic community's full support in her commendable endeavor to secure King's Papers for Atlanta. Similar sentiments of support were also shared by banquet co-hosts Chintan Amin, Sushan Arora, Manju Kothary, Salim Jetha, Nadir Nanjee and Noor Ahmed, wife of Dr.Abdul Rehman Ahmed of the Ismaili community



58th Mayor of Atlanta
In office
January 7, 2002 – January 3, 2010




Shirley Clarke Franklin (born May 10, 1945) is an American politician, a member of the Democratic Party, and served as mayor of Atlanta,Georgia, from 2002 to 2010. She currently serves as a member on the board of directors for both Delta Air Lines and Mueller Water Products.

The 58th mayor of Atlanta, she was the first female to hold the post and became the first black woman to be elected mayor of any major Southern city. Franklin was Atlanta's fourth black mayor.

In 2005, TIME Magazine named Franklin one of the five best big-city American mayors.

In 2006, Shirley Franklin led the effort to have the papers of Dr. Martin Luther King given to his alma mater, Morehouse College, instead of being sold at auction: I never imagined I could contribute to the continuation of Dr. King's legacy in as a significant way. And I'm really humbled I was able to do anything to continue his legacy. I'm almost moved to tears.